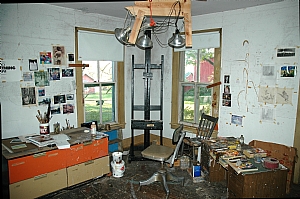 Paul has asked the question......with the current economic problems will you be dropping the prices on your paintings?
I will not be changing my prices. I believe it would not be fair to my collectors. They would not like to see a similar work that they had purchased last year sell this year at a lower price. It would devalue their investment.
Of course the stock market rises and falls day by day but in my view, we as artists, have an obligation to our clients and ourselves to hold the line. The only way we can make our work more affordable is to paint smaller paintings. This i have done.

Rita commented on my beautiful studio as a place that would inspire the creative spirit.....
Take a look at the old farm studio that inspired me for 28 years. Not enough light. Not enough heat...but it was a place of quietude. No telephone or television to distract me from working 14 hours per day.
This isolated little room was not a place i HAD to work in....I could have worked at home under much more comfortable surroundings. This was a self imposed condition. I felt the need to focus my entire energy on producing paintings that would ensure success in my effort to make a living as a fine artist. With a wife, five children and a mortgage i had to make this thing work. Up to this point, timing, luck and hard work has paid off in my 37 years as a full time artist. I have often said "If it all ended tomorrow i would consider myself a lucky man." thanks for visiting....tom
BE SURE TO SCROLL ALL THE WAY DOWN TO SEE EARLIER POSTS.