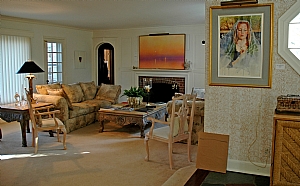 our 39th exhibit has concluded as of sunday october 10th. we had perfect weather and a big crowd of people. some wanted to come by on monday and tuesday. i am always happy to make arrangements for a private showing. all it takes is a phone call. made it a point to paint some smaller paintings due to our continued recession which proved to be a good idea because all of them sold. the largest piece that was purchased was
48 x 60. the subject was a trout stream in north georgia. i will try to post a few images along with this blog to give you an idea of how i use the space in my home and studio. some will be surprised to see paintings hanging in my large windows. when showing over 50 works of art one has to use every available space. paintings suspended by a thin wire over a window seem to float in space and doesnt look bad at all.
in my last blog i mentioned that i would respond to an email from a fellow artist who has a day job, wife and children and a desire to pursue his dream as an artist. among other things he wanted to know if he needed an agent to promote his work and some idea on pricing his paintings. jaye has a great atitude and seems to have a work ethic that will help him succeed. i cannot speak for other artists but i really dont see a need for an agent unless you have already built up a volumn of clients that might predict a strong demand for your particular kind of work. as far as pricing goes....when i first started my career as a fine artist, i put some mighty low prices on my paintings figuring it was important in the beginning to get my work into as many collections as possible.
exposure is an important engredient so if you are priced too high then it is more likely that you will have a studio full of art with no exposure at all. art fairs are a good place to start in the beginning. some gallery owners discover a potential artist at these venues. another important way to build a resume and get favorable reviews in the media is to enter as many competitions as you can. if you are lucky enough to win a few it not only brings attention but also builds your confidence. if you are just beginning dont try to take the art world by storm...start in your own community. local art shows, county fairs, banks, restaurants, regional calls for entry. if this proves productive enter national shows. when you sell one of your paintings or drawings be absolutely sure you send the collector a thank you note.
just recieved an email from jaye along with an image of his latest drawing which i think is very very good. his choice of subject matter is powerful, with great composistion and professional rendering. he also tells me he has just been accepted by a gallery. this guy is on his way and it's beginning to look like his dream might actually come true.